Have you ever read a blog without an image attached? Looks pretty boring, no? How about checking out the Facebook page of that local business you're thinking about visiting? A page full of text updates? Ugh. That's so yesterday.
But you don't have to just take my word for it. In fact, a huge amount of research has been conducted to determine just how important using images in your online content truly is. Let's have a look-see at some of these compelling stats:
Articles that contain images get an average of 94% more views
In terms of local search, 37% of consumers say that images grab their attention and make them more likely to consider that business
Facebook posts with images get an average of 37% more engagement than plain text
The numbers don't lie. Images are important. Finding images that you can use, however, isn't quite as straightforward. There's that pesky copyright law and everything to deal with. To avoid getting yourself in hot water, you can try a pricey subscription fee to an online stock photo site. Or, better yet, you could use one of these top 20 free image sites to find the perfect pictures to match your content.
Without further ado, here they are, in no particular order.
Stock Free Images – This is the free version of the paid image site Dreamstime. It contains a huge database of over half a million high quality images for free download. The images are categorized and searchable.
Free Digital Photos – This is a searchable database of photos which can be categorized as personal, educational or business. Smaller images are available at no charge (though some require you to give credit to the site and/or photographer). Larger images can be purchased for a fee.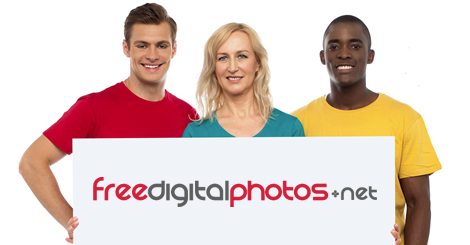 Free Images – With more than 400K images and counting, Free Images is one of the more popular free photo sites on the web. Registration is required, but attribution may or may not be necessary (depending on the image you've chosen).
Free Photos Bank – This site offers a wide variety of free images which you can search for easily and download without having to sign up for an account.
Free Range Stock – Sign up for a free user account and instantly gain access to download high-quality, high-resolution stock photos for free. All images are available for personal or business use and are at least 2400 x 1600 in size/quality.
Pixabay – Pixabay is an online repository of more than 320,000 stunning copyright-free, cost-free photographs. The images are incredibly high quality and can be used either in digital or printed form, even for commercial use, without attribution.
Freepik – Smaller images are free for online use. Larger, higher resolution versions can be purchased. Link back and attribution are required, but no sign up is necessary.
RGBStock – Register for a free RGBStock account and gain access to more than 100,000 beautiful photos and free graphics for use in illustrations, wallpapers and backgrounds. You can also upload your own images if you'd like to pay it forward.
StockVault – This one's pretty cool – it keeps a counter of the total number of available images, downloads and members across the top of the page. As of the time of this writing, there are 52k free images available with a free membership. NOTE: this site does not allow for commercial use, but images can be used on personal blogs (including those that contain ads – saaaweeet!).
Pexels – Pexels is a searchable database of Creative Commons Zero images. All photos are completely free to be used for any legal purpose, including personal and commercial. No link back or credit to source is required.
Morguefile – The images available on Morguefile have all been freely submitted by talented artists and are intended for use in creative projects. You do need to register in order to download but the site requests that due credit is given to the artist whenever possible.
PhotoPin – Search millions of creative commons photos and use them on your blog or other creative initiatives. PhotoPin uses the Flickr API and other search methods to locate and collect high quality images that can be downloaded and used. No sign up is required for this site. Search is super easy as well.
Picjumbo – Picjumbo contains a sizeable database of free photos available for any kind of use, free of charge and with no registration required. The only downside of this site is the fact that there's no search feature. Images are pretty well-categorized, however, so if you know what you're looking for, you should be able to find it that way.
Pikwizard – This site contains a collection of high resolution images that are available for free download for commercial use. All images and other available free resources are organized into categories to make searching easier.
Free Stock Photos – The database of images available from this site is gradually growing, and the available photos are nice. What's really nice is that registration is not required, and in most cases, neither is attribution. Many of the images are sponsored by Shutterstock.
Public Domain Pictures – Another great resource where you can either download free pictures for use or upload your own. Images being used for commercial use may require a model or property release. The site also notes that "pictures featuring products should be used with care."
Death to Stock Photo – This site is a resource for free-to-use images for commercial purposes, blog posts, social accounts and other online initiatives. The catch? It's not a searchable database. Instead, you sign up with your email and receive a selection of images sent to you on a monthly basis. So, this one is more hit-or-miss, but it's a great way to stock pile images you like for future use so it's still worth the mention.
Unsplash – Similar to Death to Stock Photo, this site gathers quality free images and sends them out to subscribers – 10 new pics every 10 days. All photos are licensed under Creative Commons Zero which means you're free to copy, modify, distribute and use the photos for free, including commercial purposes. Attribution is not required.
Wikimedia Commons – This is an online database containing more than of 24 million free media files which anyone can either use or contribute to. If you're not super familiar with Wikipedia, you may find this site a little less user-friendly but it's an additional resource to consider nonetheless.
Google Advanced Image Search – If you're really stuck, you can try your hand at Google using its advanced search feature. Just make sure you change the dropdown menu to the appropriate selection (i.e. "free to use or share", etc.). Admittedly, the results aren't always that fantastic, but sometimes you can find what you're looking for.
These should keep you busy for a while and help you spruce up your blog or small business website to really make it stand out. Just a word to the wise, always double check the license and usage terms on each site to ensure that nothing has changed.
What free image sites did we miss? Do you have a favorite that didn't make the list? Please share!